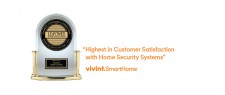 PROVO, Utah, November 7, 2017 (Newswire.com) - ACN today announced that Vivint Smart Home, the leading smart home and security services provider in North America, has been ranked highest in customer satisfaction among home security brands by J.D. Power, the customer experience benchmarking authority.
The 2017 J.D. Power Home Security Satisfaction Study found that Vivint Smart Home excelled at securing customers' homes, ease of use; timeliness; and clarity of information provided. The prestigious Power Circle Rating of five was given to Vivint--the only company to earn such a ranking.
Vivint Smart Home creates simple, affordable security solutions for customers. Vivint offers home security, energy management, home automation, local cloud storage, and high-speed Internet solutions all with flexible pricing as well as a no-contract option. ACN, Inc. is the world's largest direct seller of telecommunications, energy and essential services for home and business. Utilizing the direct selling, or person to person, business model, ACN's Independent Business Owners (IBOs) market Vivint's security and automation services to their network of customers across the United States and Canada. This is one of many services offered by the direct selling giant.  "Aligning ACN with the best companies in the business is a top priority for us," said Robert Stevanovski, Co-Founder of ACN. "Our IBOs and their customers expect nothing less, and we are proud to work with a company of Vivint's caliber. Their designation by J.D. Power is incredibly well deserved."
The J.D. Power 2017 Home Security Satisfaction Study measured overall satisfaction with home security brands among 3,134 customers who owned a professionally installed and monitored home/residential security system. The study identified 11 key performance indicators (KPIs) that had a significant effect on satisfaction (listed in order of importance): features of your security system met your needs; billing statements did not have errors; did not experience problems with your home security system; number of phone contacts needed to answer question/resolve problem; ability to control your system outside the home; two-way talk provided over the control panel; did not experience false alarms; reviewed the instruction manual or online support documents; sales contract terms fair and reasonable; smart/connected home features; and service technician arrived on time. To learn more about the Home Security Satisfaction Study, visit www.jdpower.com/press-releases/jd-power-2017-home-security-satisfaction-study.
For more information about  Vivint Smart Home, visit www.vivint.com.
About Vivint Smart Home
Vivint Smart Home is the leading provider of smart home services in North America. Vivint delivers an integrated smart home system with in-home consultation, professional installation and support delivered by its Smart Home Pros, as well as 24-7 customer care and monitoring. Dedicated to redefining the home experience with intelligent products and services, Vivint serves more than one million customers throughout the U.S. and Canada. For more information, visit www.vivint.com.
About ACN, Inc.
Founded in 1993, ACN is the world's largest direct seller of telecommunications, energy and other essential services for residential and business customers. ACN provides the services people need and use every day including Digital Phone Service, Local & Long Distance, Wireless, Energy, Television, Home Security & Automation, High Speed Internet and Technical Support. ACN operates in 25 countries with offices located throughout North America, Latin America, Europe, Asia and the Pacific. For more information on ACN's home-based business opportunity, visit acninc.com
Source: ACN, Inc.
Share: