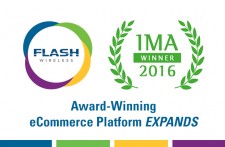 Concord, NC, August 3, 2017 (Newswire.com) - U.S.-based wireless MVNO Flash Wireless recently announced the availability of each of its three networks on its award-winning eCommerce website, which was built on SAP® Hybris® Commerce, a state-of-the-art solution with customer experience at the heart of its design.
Flash Wireless, the wireless division of direct-selling powerhouse ACN, Inc., operates on three of the nation's top networks and is quickly becoming known for its ability to give customers the ultimate power of choice. Specifically, with Flash Wireless, customers have the power to choose their network, device, and plan, with the freedom to switch between networks as it suits their needs.
In 2016, Flash Wireless launched their first of three networks on this enhanced eCommerce platform, ultimately with plans to bring the other two networks over in the future. Shortly after that initial launch, Flash Wireless took home top honors from the annual Interactive Media Awards for its eCommerce platform -- including the Best in Class Award, the highest honor bestowed by the Interactive Media Council. Now, customers across all three of the company's networks can experience the award-winning, best-in-class Flash Wireless experience.
"The complete transition of all three Flash Wireless networks to SAP Hybris Commerce fulfills a commitment we made to our customers many months ago," said Dan Polk, ACN Executive Vice President of eCommerce. "Competition in the wireless sector is fierce, and we're further distinguishing ourselves by delivering on a promise to enhance the customer experience for every customer, every time – from their first visit to our website through the duration of the customer's journey with us."
The move comes as part of the greater, company-wide campaign for digital transformation initiated by ACN in 2016, with even more changes on the horizon – all of which are designed to show the company's commitment to building a best-in-class experience.
About Flash Wireless
Flash Wireless is the wireless division of direct selling powerhouse ACN, Inc. and provides wireless service utilizing established and reliable nationwide networks. By offering contract and no-contract plan options at competitive low monthly rates along with a commitment to outstanding customer service, Flash Wireless is a preferred choice for wireless service. Learn more at www.flashwireless.com.
About ACN, Inc
Founded in 1993, ACN is the world's largest direct seller of telecommunications, energy and other essential services for residential and business customers. ACN provides the services people need and use every day including Digital Phone Service, Local & Long Distance, Wireless, Energy, Television, Home Security& Automation, High-Speed Internet and Technical Support. ACN operates in 25 countries with offices located throughout North America, Latin America, Europe, Asia and the Pacific. For more information on ACN's home-based business opportunity, visit acninc.com For information on ACN's complete product suite in the U.S., visit myacn.com. 
SAP, Hybris and other SAP products and services mentioned herein as well as their respective logos are trademarks or registered trademarks of SAP SE (or an SAP affiliate company) in Germany and other countries. See http://www.sap.com/corporate-en/legal/copyright/index.epx for additional trademark information and notices. All other product and service names mentioned are the trademarks of their respective companies.
Source: ACN
Share: