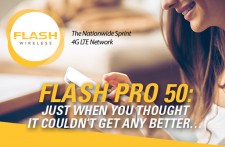 Concord, NC, March 20, 2017 (Newswire.com) - Today's wireless consumers have been forced to become familiar with words like "data deprioritization", "throttling" and "network congestion" not to mention lots of fine print when it comes to understanding their wireless bill. And the fact is, most plans marketed as "unlimited" are actually anything but. U.S. based Flash Wireless is changing all that with the launch of their new Flash Pro 50 Plan on the Nationwide Sprint 4G LTE Network. 
With Flash Pro 50, online gamers, movie lovers and music streamers can breath easy and enjoy 50GB of high speed LTE data – all with no restrictions, no throttling and no data caps. As fast as the tower can deliver it and the customer's device can process it, the customer will get it without any speed restrictions. 50GB of high speed data usage for mobile hotspot is also included with no slow down or data caps, plus everything else a wireless consumer needs like unlimited talk and text and domestic roaming. And at $69/month for a single line plan, Flash Pro 50 is the company's biggest data plan ever at their best price ever.
"At Flash Wireless, we believe our customers deserve better than a bunch of fine print," said Jim Patterson, VP and General Manager, Flash Wireless. "Our customers deserve an incredible 50GB of data at an incredible price – in a plan that's easy to understand and even easier to love."
What could be better than 50GB of high speed LTE data for $69? Getting it for free*.
With the Flash Wireless Strive for 5 Program, Flash customers can get their monthly fee for free* (excluding taxes and surcharges) simply by referring 5 other people to Flash Wireless.
About Flash Wireless

Flash Wireless is the wireless division of direct selling powerhouse ACN, Inc. and provides wireless service utilizing established and reliable nationwide networks. By offering contract and no-contract plan options at competitive low monthly rates along with a commitment to outstanding customer service, Flash Wireless is a preferred choice for wireless service. Learn more at www.flashwireless.com.
About ACN, Inc
Founded in 1993, ACN is the world's largest direct seller of telecommunications, energy and other essential services for residential and business customers. ACN provides the services people need and use every day including Digital Phone Service, Local & Long Distance, Wireless, Energy, Television, Home Security& Automation, High Speed Internet and Technical Support. ACN operates in 25 countries with offices located throughout North America, Latin America, Europe, Asia and the Pacific. For more information on ACN's home-based business opportunity, visit acninc.com
*Refer to the Strive for 5 Program for complete details. 
Source: ACN, Inc.
Share: