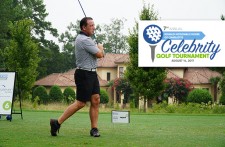 Concord, NC, October 3, 2017 (Newswire.com) - ACN's Seventh Annual Ronald McDonald House of Charlotte Celebrity Golf Tournament was held on Monday, August 14 at Trump National Golf Course in Mooresville, NC. Thanks to the support of over 55 sponsors, including Titanium Sponsor Dish Network and Platinum Sponsors XOOM Energy and Vivint SmartHome, this event brought together over 30 foursomes, each led by a celebrity captain, to raise $241,450 – 100% of which went directly to the Ronald McDonald House of Charlotte at the close of the event.
Some of the celebrity captains who generously donated their time included the wife of Carolina Panthers head coach Ron Rivera, Stephanie Rivera, retired American Speed Skater Dan Jansen, Nascar driver Jamie McMurray and former NFL cornerback Steve Israel. But one celebrity captain walked away with more than just a good day of golf for a great cause. Former NFL punter Tommy Barnhardt sunk a hole in one on hole 7, winning a brand new Maserati Quattroporte from Foreign Cars Charlotte.
The event concluded with a reception, with a grand finale announcement of the total amount raised. On hand from the Ronald McDonald House of Charlotte was Executive Director Mona Johnson-Gibson.
"We are so fortunate to have the support of ACN," said Johnson-Gibson. "We always have a blast at the events they host for us throughout the year but the best thing about them – they are focused on the families we serve. We couldn't be happier about the generous donation that allows us to continue our mission of serving the families of seriously ill or injured children!"
In 2008, ACN chose Ronald McDonald House Charities as its global charity of choice and began collecting donations for the local Ronald McDonald House chapter at each of its quarterly training events held throughout the world raising millions of dollars for this worthwhile charity.
"This tournament – bringing people together for the greater good – is what ACN is all about. Being able to support an organization whose main purpose is to provide families with the care and support they need and deserve during their darkest hours, is what makes this tournament so important and keeps us humbled. I would like to thank all of the sponsors, celebrities, golfers and volunteers who made this a success," said ACN Chairman and Co-Founder Robert Stevanovski.
About ACN Global Reach Charities, Inc.
Founded in 2011, ACN Global Reach Charities is a non-profit organization with the mission of expanding the charitable efforts initiated by ACN, Inc. by providing focused management and increased fundraising efforts. The non-profit continually seeks out new opportunities to work with charitable organizations and is devoted to making improvements on a local level. Its grass-roots efforts have raised awareness in the Charlotte area and surrounding communities. In addition to its many efforts, ACN Global Reach Charities provides ongoing support for the Ronald McDonald House of Charlotte.  For more information on ACN Global Reach Charities, visit www.acncharity.com.
About the Ronald McDonald House of Charlotte
The RMH of Charlotte serves the families of children being treated at Levine Children's Hospital and Hemby Children's Hospital. Located at 1613 East Morehead Street on land donated by Carolinas Medical Center, the House features approximately 35,000 square feet of living space complete with 28 bedrooms (one family per bedroom/suite), providing more than 10,000 nights for the families.  It also has a community kitchen, great room, library, playground and sitting porch.  Construction began in early 2010 and the House accepted its first family in May of 2011. The RMH of Charlotte is an independent 501c3 charity managed by a local board of directors, which oversee operation of the Home. The cost of building and operating the RMH of Charlotte is covered primarily by individual and corporate donations. Then RMH of Charlotte is funded, constructed and operated by the Charlotte community. The mission of the RMH of Charlotte is to provide the families of children being treated in area medical facilities with a safe, affordable and caring "home away from home".  For more information on RMH of Charlotte, please visit www.rmhofcharlotte.org.
Source: ACN, Inc.
Share: