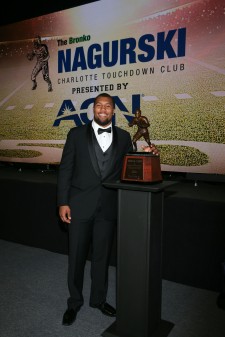 CONCORD, N.C., December 15, 2017 (Newswire.com) - Hard work pays off – especially for the Wolfpack's senior defensive end Bradley Chubb. On Saturday, Dec. 4, the Football Writers Association of America and the Charlotte Touchdown Club named the 6-foot-4, 275-pound gladiator the 2017 Bronko Nagurski Trophy winner at the gala banquet in Charlotte. The event was viewed by the masses during the national broadcast presented by ACN on Dec. 7.
Given to the NCAA's top defensive player, the Bronko Nagurski Trophy is an award of high honor and prestige – and many of its recipients have the accolades to prove it. "It's a little surreal moment just knowing the people who won this award in the past, but it's definitely an honor," Chubb said.
With 23 1/2 tackles for loss, Chubb reigns as the FBS leader this season. He played 87 percent of the snaps against conference competitors this season and is a three-time ACC Defensive Lineman of the Week. Chubb set North Carolina State University career records for tackles (60) and sacks (26) and is a finalist for the Bednarik and Hendricks Awards. In addition to this, he has also been named the ACC's 2017 Defensive Player of the Year.
"This is a proud moment for me as a head coach, for our entire team and for NC State University," said NC State head coach Dave Doeren. "Bradley is everything that's right about college football and it's so great to see his hard work and dedication be rewarded on a national stage."
While Wolfpack linebacker Levar Fisher was a finalist in 2000, Bradley Chubb makes history as the first of North Carolina State to actually win the Bronko Nagurski Trophy. Bradley won the Bronko Nagurski Trophy over Alabama safety Minkah Fitzpatrick, Iowa middle linebacker Josey Jewell, Houston defensive tackle Ed Oliver and Georgia outside linebacker Roquan Smith. This dynamic student-athlete is now among the ranks of other esteemed defensive players such as Jonathan Allen of Alabama, Temple's Tyler Matakevich and Arizona's Scooby Wright III.
"We are very proud to support the Charlotte Touchdown Club," said ACN President and Co-Founder Greg Provenzano. "It is such an honor and privilege to continue on as the presenting sponsor of the Bronko Nagurski Awards Banquet and an organization that not only celebrates excellence in college football, but one that supports area athletics for middle and high schools students. Like Bradley Chubb and the four trophy finalists, ACN employees embody the qualities of hard work, determination and dedication to excellence."
The FWAA and the Charlotte Touchdown Club also presented the Bronko Nagurski Legends Award by Florida East Coast Railway. This year's recipient was Notre Dame's Ross Browner, a member of the College Football Hall of Fame.
The awards are named after legendary Bronko Nagurski, who dominated college football at the University of Minnesota as a bruising fullback and defensive tackle from 1927 – 1929.
The Bronko Nagurski Trophy is a member of the National College Football Awards Association (NCFAA) which encompasses the most prestigious awards in college football. Founded in 1997, the NCFAA offers 24 awards and boasts over 800 recipients, dating to 1935. For more information, visit the association's website, www.NCFAA.org.
About ACN
ACN, Inc. founded in 1993, ACN is the world's largest direct seller of telecommunications, energy and essential services for residential and business customers. ACN provides the services people need and use every day including phone service, high-speed internet, wireless, television, security and automation, computer support, payment processing and natural gas and electricity. ACN operates in 25 countries with offices located throughout North America, Europe, Latin America, Asia and the Pacific. For more information, visit myacn.com. For information on ACN's home-based business opportunity, visit acninc.com.
About the Football Writers Association of America
The Football Writers Association of America, founded in 1941, consists of 1,300 men and women who cover college football. The membership includes journalists, broadcasters and publicists, as well as key executives in all the areas that involve the game. The FWAA works to govern areas that include game-day operations, major awards and its annual All-America team. For more information about the FWAA and its award programs, contact Steve Richardson at tiger@fwaa.com.
About the Charlotte Touchdown Club
The Charlotte Touchdown Club is a nonprofit organization founded in 1991 for the purpose of promoting high school, collegiate, and professional football in the Charlotte, North Carolina, region. The club's activities and services focus community attention on the outstanding citizenship, scholarship, sportsmanship, and leadership of area athletes and coaches. Since 1991, the club has raised more than $2,000,000 to benefit area high school and collegiate athletics. For more information, contact John Rocco (704-347-2918 or jrocco@touchdownclub.com). The official website of the Charlotte Touchdown Club is touchdownclub.com.
About Florida East Coast Railway
Florida East Coast Railway is a regional freight railroad that extends along a 351-mile corridor between Jacksonville, Florida, and Miami, Florida, with exclusive rail access to the Port of Palm Beach, Port Everglades (Ft. Lauderdale) and the Port of Miami. For more information, visit fecrwy.com.
About the Bronko Nagurski Trophy
The Bronko Nagurski Trophy is presented annually by the Charlotte Touchdown Club and Football Writers Association of America to the nation's most outstanding NCAA defensive football player at the Bronko Nagurski Banquet in Charlotte, North Carolina. All proceeds benefit the Charlotte Touchdown Club Scholarship Fund. For more information visit www.touchdownclub.com.
Source: ACN, Charlotte Touchdown Club, Florida East Coast Railway
Share: